Since 2010, I have been researching the historic railroad lines of Santa Cruz County. It should come as no surprise to anybody that the intent of this research all along has been to write a book. In fact, I hope that someday two books may come out of this research. For the time being, however, only one book is planned: Santa Cruz Trains: Railroads of the Santa Cruz Mountains.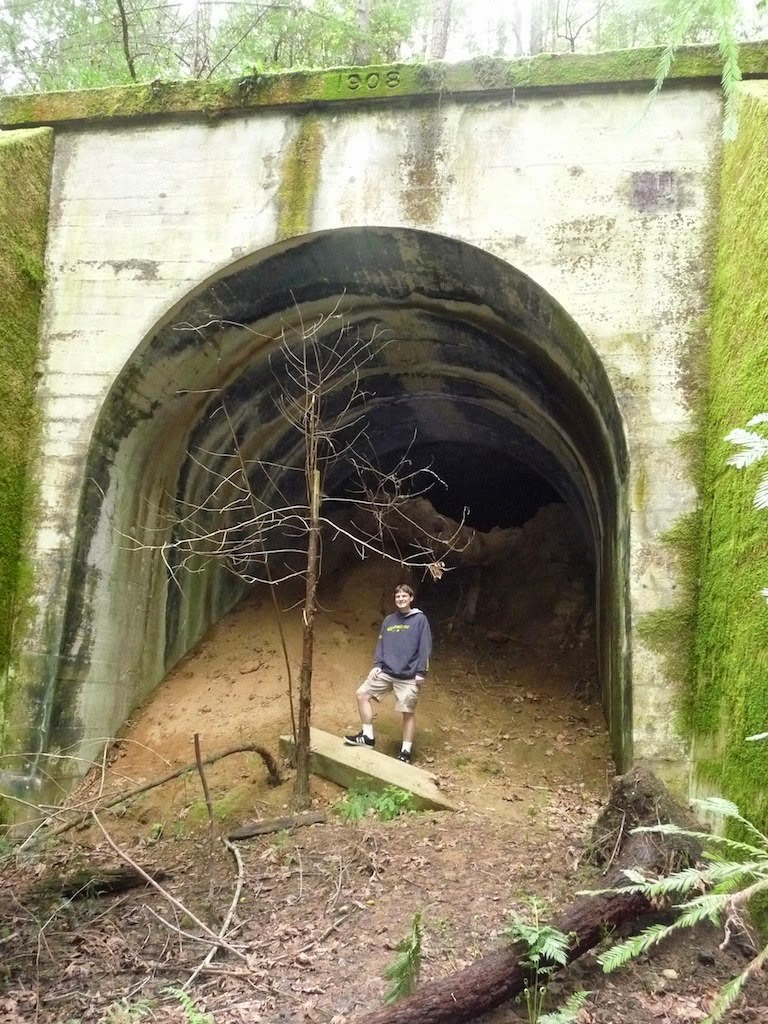 Derek Whaley in front of the southern portal of the Mountain Charlie tunnel, Summer 2013.
This book will be a roughly 250-page reference book documenting the history of the various lines between the Santa Cruz wharves and Vasona Junction near Los Gatos. It will focus primarily on the stops, trestles, and tunnels along the route, though it will also include a section devoted to those wishing to explore the right-of-way as it currently exists. Furthermore, the book will include GPS coordinates for every location mentioned in the book (where possible) and information regarding access rights to those locations. Finally, there will be photographs. LOTS of photographs. What is a railroad history book without pictures, right? I've been working closely with the staff of the Santa Cruz Museum of Art & History, the San Lorenzo Valley Museum, the Los Gatos History Museum, and local historians in obtaining new and previously unpublished photographs of the route, including pictures of the state of the route during its unfortunate closure in 1940. Many of these have already been posted to this site, but there are many more to come in the future.
To help support this project, I have opened up a new blog at santacruztrains.blogspot.com which will be where I post progress reports, updates, and new discoveries, as well as questions for the public. Unlike my primary blog at www.santacruztrains.com, this new blog will be more of an open discussion forum for local railroad and regional historians. Feel free to comment on any related subject to any post in the blog. I will try to keep people apprised of my research and writing in the meantime.
This website, as always, will continue to be updated beginning this month with new content regarding the Ocean Shore and Coast Line Railroads, the Santa Cruz Railroad, the Aptos Branch, and the private lumber lines along all of the aforementioned lines. This website will continue to expand over the next few years until every station, stop, spur, siding, railroad company, connected logging mill, trestle, tunnel, wharf, and pier is accounted for. This website is not complete until the entire Santa Cruz County network of railroads is documented.
So stay tuned and hang on for a long and winding ride through the history of Santa Cruz County railroading. And follow my progress blog which will soon have a home at the top of my primary site. Thank you loyal readers and keep giving me all you've got!
Sincerely,
Derek Ryan Whaley
P.S. Feel free to email or snail mail me with information, as well, if you do not feel comfortable publicly posting information or material.
Santa Cruz Trains: Railroads of the Santa Cruz Mountains is available now on Amazon.com at https://amzn.to/36fmmXC.