On this day 75 years ago, the last train ran over the Santa Cruz Mountains. Celebrate the railroad's history with Santa Cruz Trains: Railroads of the Santa Cruz Mountains, a 352-page book of articles and photographs surveying the history of the communities that interacted daily with the railroads. The period spanned by this survey includes virtually the entirety of Santa Cruz and Los Gatos history, from the 1850s to the present. Each article discusses a specific community, business, or geographic location and is supported with full citations and references, maps, historical advertisements, and over 200 photographs, many of which have never before appeared in print.
While it had originally intended to see a digital-only release for 2015, the book will now be released as a soft-bound volume, available from CreateSpace in March. An e-book edition is currently on hold, pending further development.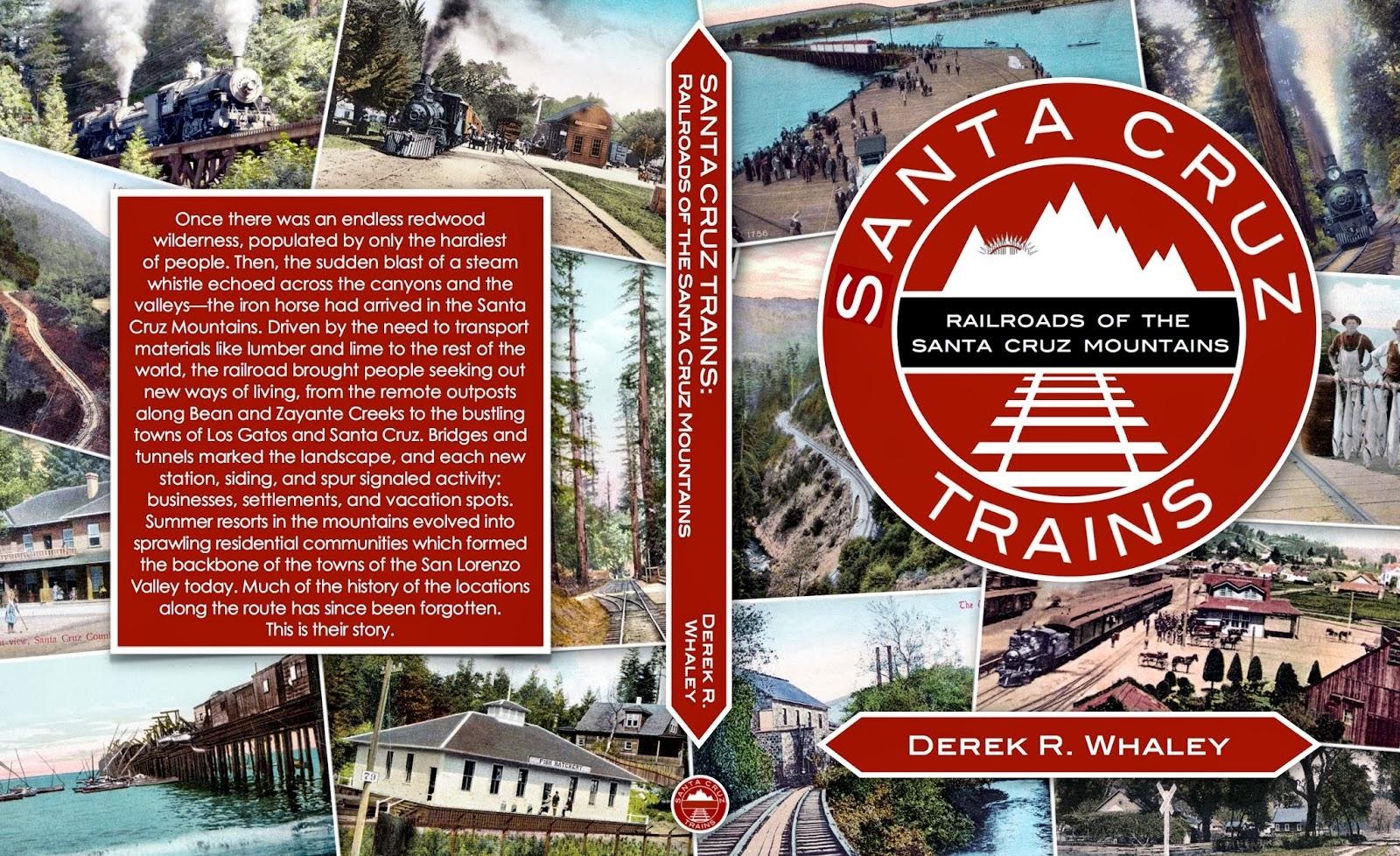 From the back cover:
Once there was an endless redwood wilderness, populated by only the hardiest of people. Then, the sudden blast of a steam whistle echoed across the canyons and the valleys—the iron horse had arrived in the Santa Cruz Mountains. Driven by the need to transport materials like lumber and lime to the rest of the world, the railroad brought people seeking out new ways of living, from the remote outposts along Bean and Zayante Creeks to the bustling towns of Los Gatos and Santa Cruz. Bridges and tunnels marked the landscape, and each new station, siding and spur signaled activity: businesses, settlements, and vacation spots. Summer resorts in the mountains evolved into sprawling residential communities which formed the backbone of the towns of the San Lorenzo Valley today. Much of the history of the locations along the route has since been forgotten.  
This is their story.
Derek Ryan Whaley is a local historian and recent resident of Felton, California. His research on local railroads began in 2011 after attending a seminar held at UC Santa Cruz by Brian Liddicoat. From there he started his website, www.SantaCruzTrains.com, which eventually led to the writing of this book. Derek has been involved in the Santa Cruz historical community since 2012 and is currently researching for his PhD in History at the University of Canterbury in Christchurch, New Zealand, from which he plans to graduate in 2017. His local railroad website is updated every Friday with new content relating to the local railroads and their history.