Last week I discussed my progress with Ronald G. Powell's The History of Rancho Soquel Augmentation trilogy of books. They are all on track with the first coming out this month and the others planned to release next year (fingers crossed!). However, Santa Cruz Trains remains my core focus both online and mentally, and the Powell books are partially being done in order to make future Santa Cruz Trains books better all around, since they explain much of what happened along the Loma Prieta Branch and the Valencia Creek Railroad from the 1880s through to the 1920s. As such, I do have two exciting new developments to announce regarding the future of Santa Cruz Trains.
First, my plans for a sequel to Railroads of the Santa Cruz Mountains has expanded ever so slightly to include two books! Both will be of the same size but will have very different scopes. The second book, Railroads of the Santa Cruz Coast, is still planned to be exactly what I intended for it to be: a history of the railroads that operated (and still operate) along the coastline from Carnadero south of Gilroy to Swanton north of Davenport. Progress was halted on this book last May when I switched to preparing Powell's books for publication, but I have continued to gather information for it and even written a few bits, including an introductory chapter and parts of some of the articles. Blog posts have also been helping pave the way for some parts of this book and others. The key change, though, is that certain information from this book and from Railroads of the Santa Cruz Mountains is being moved into the third book. More on that in a moment.
"But wait!" you are saying to yourselves. "You mean you're going to be messing with Railroads of the Santa Cruz Mountains too?" Well, yes. In fact, it is probably my worst-kept secret since many people are aware of it. Ever since my first book released in February 2015, people have been contacting me with suggestions for revisions, major corrections, things to add, and even things to remove. For a short time I was able to include some of these items in revisions and addenda of the book and several of these have also become blog posts on www.santacruztrains.com, but the amount of material has mounted and my own research has revealed much more detailed histories for places that are barely mentioned in the book. As examples, I neglected entirely the Santa Cruz Lumber Company on Pescadero Creek, I discuss a private railroad line along King's Creek that never existed, I barely mentioned the Love Creek Railroad, and I have a lot more to add about Zayante (Gibbs), the Dougherty Spur, Eccles, Siesta, and several other stations along the line.
In other words, my second announcement is that I am planning a second edition of Railroads of the Santa Cruz Mountains that will reflect this new material and sync the book better to the two that will follow it. This new book is probably three years off at least, so don't be afraid to buy the current edition. The reasons for the delay, besides finishing Powell's books, are because I need to do some more on-the-ground research in Santa Cruz and I intend to release this book simultaneously with the other two Santa Cruz Trains books. Due to the pandemic and immigration restrictions in place in New Zealand, I am likely unable to return to California, even for a visit, until after next October when I finally get permanent residency. Ergo, I am stuck working (and advertising!) remotely until then.
Returning to the third Santa Cruz Trains book alluded to above, this was the result of a need on my part to reduce the total size (real or anticipated) of the first two books. As I wrote the first third of Railroads of the Santa Cruz Coast last year, I realized that a lot of material was repeated across and within the two books. More problematic, the overall story and flow were negatively impacted by this because sometimes information had to be told earlier than was ideal. One example in Railroads of the Santa Cruz Mountains is the story of James Cunningham, who first appears very early on but whose story is not told until almost the end. I quickly realized that the source of the problem was the freight stops and freight companies that were scattered across local branches. These places are vitally important to the history of railroading in Santa Cruz County, but they just don't work in my current format because they pop in and out of the stories of individual freight stops and formal stations. This problem is moreso in the second book, where freight stops outside formal stations can be found in Watsonville, Live Oak, and West Side Santa Cruz. The stops in Watsonville and Pajaro alone have become a serious issue in many ways and were threatening the integrity of the first two sections of Railroads of the Santa Cruz Coast.
My solution to all of these problems is SANTA CRUZ TRAINS: COMPANIES & CUSTOMERS OF THE SANTA CRUZ LINES. Rather than focusing on railroad stations, as with the first two books, this third book will be an alphabetical encyclopedia of every known railroad freight customer that ever operated on the trackage between Vasona Junction and Santa Cruz, Swanton and Watsonville Junction, and the mainline track to Carnadero. The list I have at present is quite long, and it will only get longer. And just like the other two books, I intend for this one to include photographs, maps, and charts to help set the scenes. Furthermore, I hope to work directly with companies that still exist and have used or still use those tracks for their freight needs. It is an ambitious project but one that I think is really needed, and it will tie directly into the other two Santa Cruz Trains books, which will include page references to Companies & Customers for those wishing to delve deeper into the histories of specific companies. More importantly, this third book will allow the other books to breathe a bit more without the weight of literally hundreds of freight customers on their shoulders. That freed space means more social and cultural history, as well as more photographs and even a few new railroad stations across all three books.
Here are provisional cover blurbs for all three books, although all are subject to change: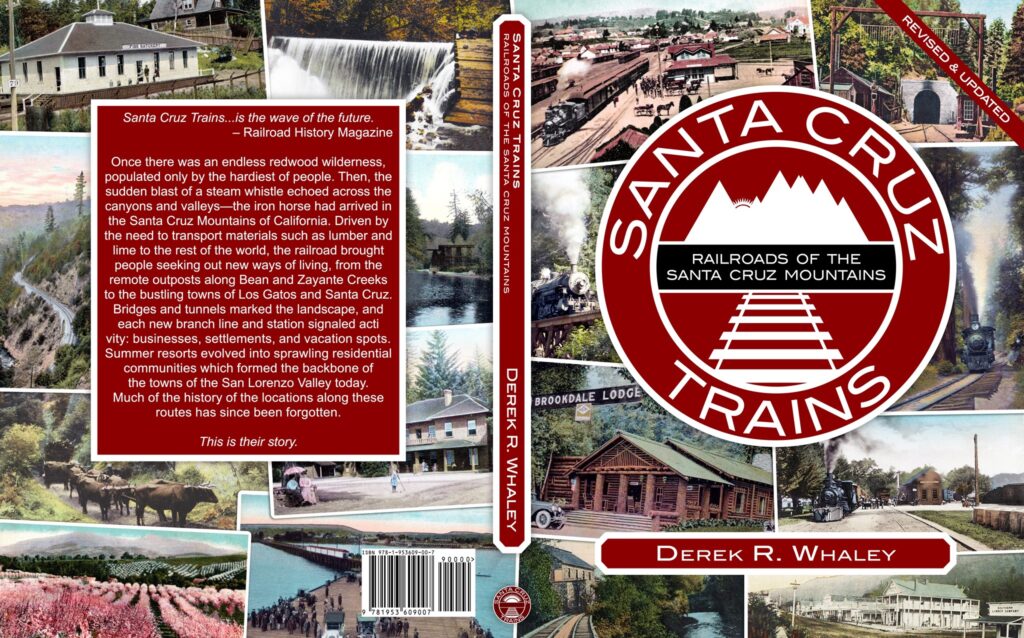 SANTA CRUZ TRAINS: Railroads of the Santa Cruz Mountains (Second Edition)
"Santa Cruz Trains…is the wave of the future." —Railroad History
Once there was an endless redwood wilderness, populated only by the hardiest of people. Then, the sudden blast of a steam whistle echoed across the canyons and valleys—the iron horse had arrived in the Santa Cruz Mountains of California. Driven by the need to transport materials such as lumber and lime to the rest of the world, the railroad brought people seeking out new ways of living, from the remote outposts along Bean and Zayante Creeks to the bustling towns of Los Gatos and Santa Cruz. Bridges and tunnels marked the landscape, and each new branch line and station signaled activity: businesses, settlements, and vacation spots. Summer resorts evolved into sprawling residential communities which formed the backbone of the towns of the San Lorenzo Valley today. Much of the history of the locations along these routes has since been forgotten.
This is their story.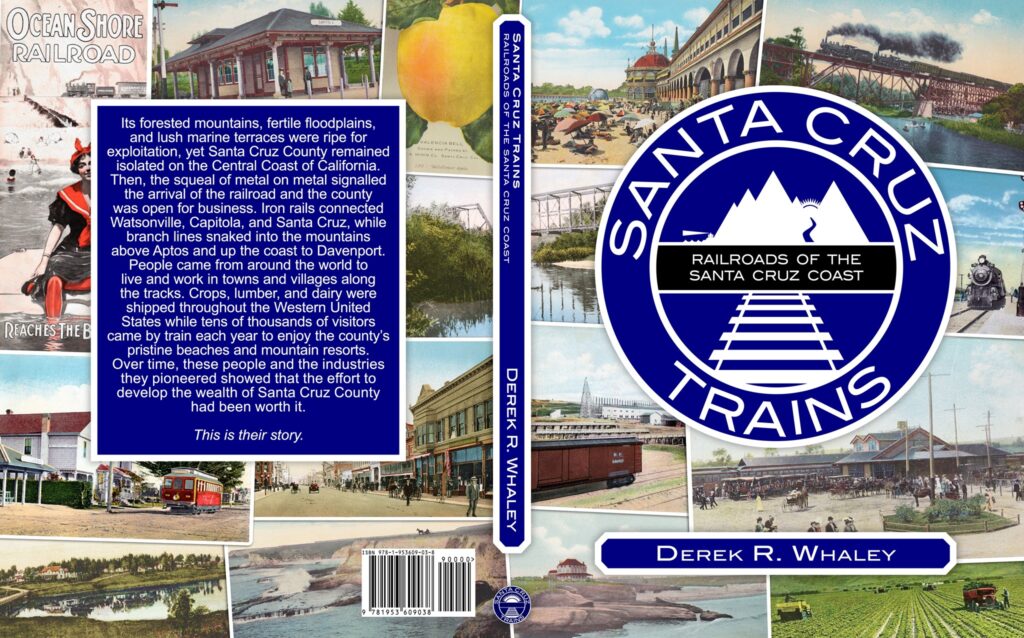 SANTA CRUZ TRAINS: Railroads of the Santa Cruz Coast
Its forested mountains, fertile floodplains, and lush marine terraces were ripe for exploitation, yet Santa Cruz County remained isolated on the Central Coast of California. Then, the squeal of metal on metal signalled the arrival of the railroad and the county was open for business. Iron rails connected Watsonville, Capitola, and Santa Cruz, while branch lines snaked into the mountains above Aptos and up the coast to Davenport. People came from around the world to live and work in towns and villages along the tracks. Crops, lumber, and dairy were shipped throughout the Western United States while tens of thousands of visitors came by train each year to enjoy the county's pristine beaches and mountain resorts. Over time, these people and the industries they pioneered showed that the effort to develop the wealth of Santa Cruz County had been worth it.
This is their story.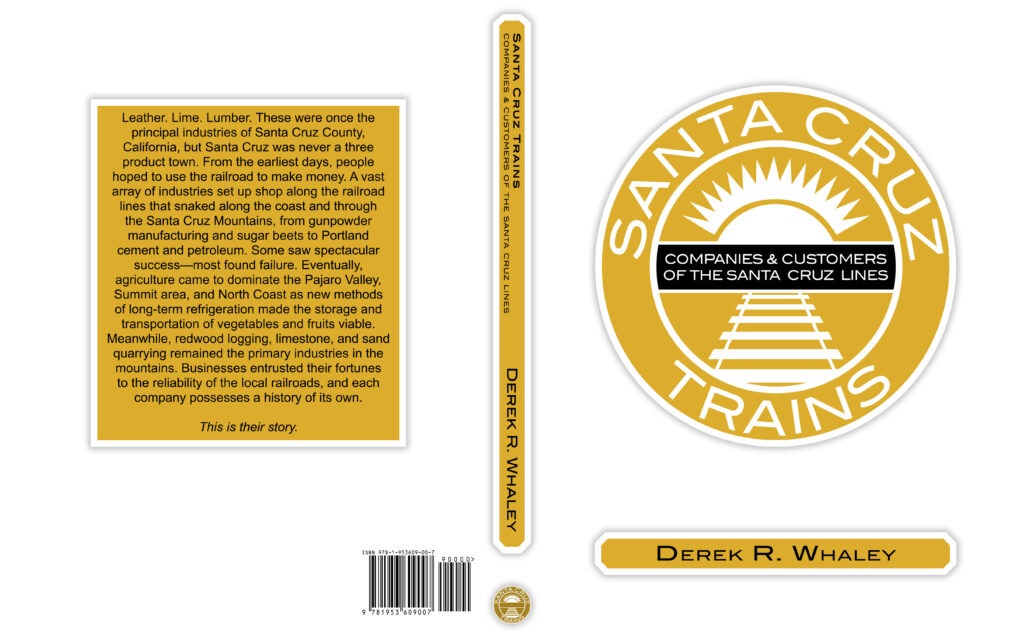 SANTA CRUZ TRAINS: Companies & Customers of the Santa Cruz Lines
Leather. Lime. Lumber. These were once the principal industries of Santa Cruz County, California, but Santa Cruz was never a three product town. From the earliest days, people hoped to use the railroad to make money. A vast array of industries set up shop along the railroad lines that snaked along the coast and through the Santa Cruz Mountains, from gunpowder manufacturing and sugar beets to Portland cement and petroleum. Some saw spectacular success—most found failure. Eventually, agriculture came to dominate the Pajaro Valley, Summit area, and North Coast as new methods of long-term refrigeration made the storage and transportation of vegetables and fruits viable. Meanwhile, redwood logging, limestone, and sand quarrying remained the primary industries in the mountains. Businesses entrusted their fortunes to the reliability of the local railroads, and each company possesses a history of its own.
This is their story.
My hope (as with last week, this is not a schedule) is to release all three of these Santa Cruz Trains books by the end of 2023. All three will be about the same size as the current Railroads of the Santa Cruz Mountains book and will include both ebook and (fingers crossed) audiobook versions. They will remain a part of the Santa Cruz Trains series but will be published by my Zayante Publishing imprint.
Thank you for your support in this journey and feel free to post any questions or comments below, or on the threads, or through direct message, or email me anytime at author@santacruztrains.com. Until next time, cheers!